You Need a Comfortable Chairs when Working at Home
As cases of COVID-19 now still goes up, the situation in the United States is predicted to be worrying.
Protecting yourself and staying safe is the best way to help reduce the spread of COVID-19. Six Tips are summaried and suggested by CDC to help you protect from COVID-19: - Stay home when you are sick - Try to stay at least 6 feet apart from other people when possible - Wear a cloth face covering if able, especially when social distancing is difficult - Wash your hands with soap and water for 20 seconds or use hand sanitizer with at least 60% alcohol if soap and water are not readily available - Avoid congregated areas like food lines and restrooms - Avoid sharing items with others
Due to the continuous impact of this epidemic, it is estimated that you will have to work from home for some time. To work commfortably and efficiently at home, a good office chair allows.
A long time sitting and bench down will cause a different degree of pain of your back and neck. In the long term, the lumbar disc herniation and other potential problem will come to you.
Therefore, sedentary office workers are supposed to have a good ergonomic office chair to prevent from backache and neck pains, so that to improve work efficiency.
CLATINA 247 Ergonomic High Swivel Executive Chair | 3D Arm Rest Adjustable Height and BIFMA Certified

Clatina's 247 series chairs are not just ordinary office chairs. They are fully adjustable with ergonomic designing back especially for people who need to work for hours. The patented Synchro Movement Technology increases sitting comfortability and safety. 247 series chairs would be the best choice of office chair that can fit everyone. Most popular among Clatina Chairs, this CLATINA 247 Ergonomic High Swivel Executive Chair will provide you an ease for sitting.
The Features of CLATINA 247 Ergonomic High Swivel Executive Chair · Fully Adjustable Ergonomic Office Chair · Adjustable Lumbar Support · Adjustable Seat Depth · 3D Soft Cushion Armrests · Max 45° Reclining Tilt · Durable and Breathable Mesh Back · BIFMA Certified-Load Up to 275lbs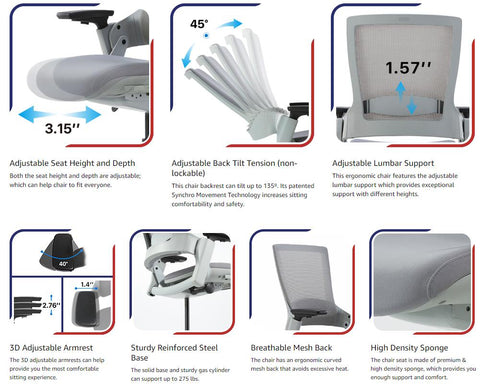 This CLATINA Ergonomic Executive Chair focuses on features that are a little bit different.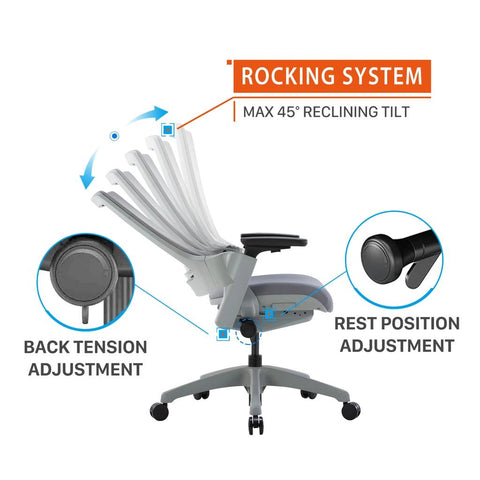 There are plenty of buyers that are impressed with the comfort and design of this desk chair and feel that it offers the right support throughout the day. The seat plays an important part. Finally, don't forget to relax when you are working for a long time. Stay healthy for life.